I love going to the gym as gym means that when I get home it's time for smoothies! (yes, really everything is about food).
This is the smoothie of the hour. I think it's the mint leaves and dash of lemon which give this smoothie the edge.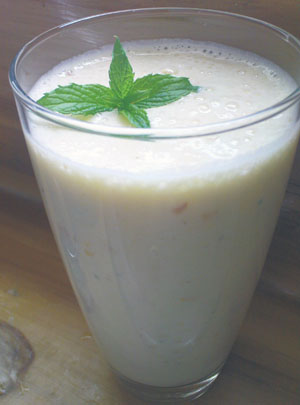 Put the following in your blender.
A ripe banana
Two ripe peaches (stones removed of course!)
Dash of lemon juice
2 tablespoons of yogurt
A couple of small mint leaves finely cut
Then add milk. For two people I add milk till the total of ingredients in the blender is 750mls.
Drink. Mmmmmm.
I'm currently not going to the gym as I broke my finger. Damn. I'll probably make the smoothie again soon anyway though I'll need to get Thomas to do the chopping for me.