This is a very quick and tasty light meal. I was worried that the olives would overwhelm the dish so I only put a few in. It ended up working well. It had the tartness of the olives, the saltiness of the feta and the sourness of the lemon dressing. If you don't like olives I suspect capers would be a nice alternative.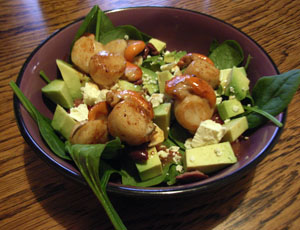 Ingredients
Scallops
Feta
Olives
Avocado
Small Spinach Leaves
Garlic
Lemon
Extra Light Olive Oil or Canola Oil
Chop feta, olives, avocado and add to a bowl with the spinach leaves.
Heat the oil in pan to a high temperature. Add garlic and scallops. Don't cook the scallops too long, as soon as they loose their translucency and turn opaque they're done. I normally cook until lightly seared on each side, turning once (around 5 mintues cooking).
Once the scallops are cooked place on top of the salad. Quickly add some lemon to the remaining oil and garlic, stir for 20 seconds then remove from heat. Pour a little on to the salad as a dressing.