Thomas is in raptures over this one, he has even offered to share the burger making crown.
Hamburgers with Potato, Kidney bean, Carrot, Corn and Leek Patty
INGREDIENTS:
1 cup canned kidney beans
1 carrot, grated
1 leek, sliced
3 potatoes, grated
1 cup corn
salt and pepper to taste
oil for frying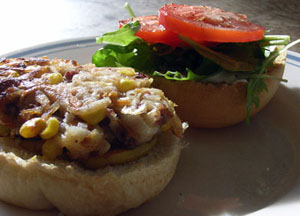 PREPARATION:
Mash the beans with a fork or a potato masher. Add the remaining ingredients, except the oil and mix until well combined.
Shape the mixture into patties.
Heat about two tablespoons of olive oil and cook each patty at a medium/high until the veggie burgers are done, about 3 minutes on each side.
Serve on nice soft white rolls (toasted) with lettuce, tomato, mustard, tomato sauce and feta dressing.
I changed the recipe around a bit to fit in with what we had in our cupboard, The original recipe can be found here: