Broccoli, Leek and Potato Soup
Ingredients
1 heads of broccoli, cleaned and chopped
1 large leek, cleaned and sliced
4 Medium Potatoes, cubed.
5 cups of vegetable stock
butter or olive oil
garlic, rosemary and thyme to taste.
2 tablespons of cream cheese/sour cream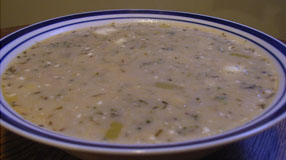 In a large soup pot saute the leeks in the butter or olive oil, seasoning with garlic and herbs.
Meanwhile, boil the vegetable stock. Then add broccoli, leeks and potatoes, bring to a boil and simmer for about 15 minutes (until potato cubes are cooked).
Stir in cream cheese/sour cream just before serving.
note:
We had cream cheese in the house so we used that. Normally we'd use sour cream.