Pineapples
During the 9 months I was in Central America I developed an excessive pineapple habit. The pineapples in Guatemala are divine. On good days I could get 2 pineapples for $1 (my bargaining skills weren't very good) .
I've been back for about three months and today the pineapple urge hit me hard. I was worried that pineapple cravings in New Zealand in the middle of winter would go unfulfilled. I was therefore happy to pay $3.99 for one at the local supermarket.
Pineapples in NZ are good, sometimes very good if you know how to pick them. Unfortunately if you don't pick well they can be almost tasteless. My experience in Guatemala has made me much better at picking them. Below are my two simple tips.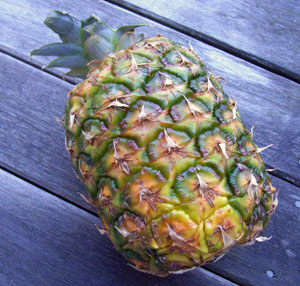 Always sniff before buying (yes, I sniff pineapples in the supermarket). If the smell of the pineapple doesn't make you salivate with desire then don't buy it, it's not a goodie.
Look for a golden colour on the outside of the pineapple. This narrows it down so you don't need to sniff all of them!