Weekend Tea and Scones
Tea and Scones on a Saturday or Sunday afternoon is a great relaxed way to hang out with friends. I love date scones.
Unfortunately dates seem to be one of those fruit that many people dislike. To cover my bases I make a double batch. One with dates, one with currants.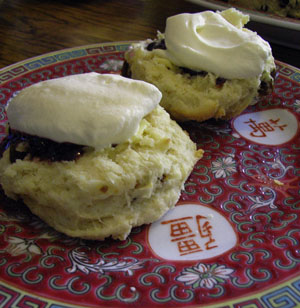 I use the standard Edmonds scone recipe and just add a cup of dates or currants (some recipes suggest adding cinnamon and brown sugar as well but I don't think it adds anything to the scones).
Here's the full scone recipe for those without an Edmonds handy.
3 cups of flour
6 teaspoons of baking powder
1/4 teaspoon of salt
75g butter
1 to 1.5 cups milk, approximately
extra milk
1 cup of chopped dates or currants
Sift flour, baking powder and salt into a bowl. Add butter (chopped) and rub in with your fingers until the mixture resembles fine breadcrumbs. Add fruit. Add milk and mix quickly with a knife until it forms a soft dough. Knead a few times. Lightly dust work surface with flour. Roll out dough on to this. I used a glass (floured rim) to cut out scones. Alternatively cut into 12 even sized pieces. Put on baking tray with even sized spaces between the scones. Brush the tops of scones with milk. Bake at 220C for 10 minutes or until golden brown.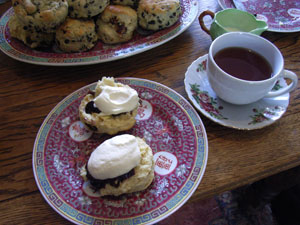 Have a great weekend.