Roasted Asparagus Rolled in Pesto.
This is a wonderful and extremely easy way to do something different with asparagus. The pesto adds a slight crispy crust to the asparagus (as well as a yummy pesto flavour of course).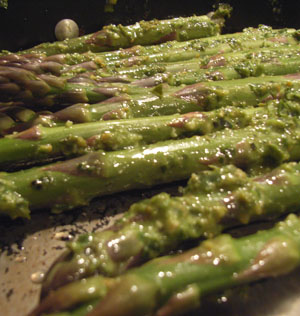 Roll the asparagus in pesto. Put in a roasting dish with a little oil and cook at around 200 C for 5 to 10 minutes.
I like to use it as an addition to my Big Breakfast style Vegetable Hash Stack