Here is another lovely recipe I was emailed by Marie (from Traits).
I really enjoyed them as burger patties even though I'm a little uncomfortable with the taste of ginger. It won't replace my standard comfort burger but it will be a nice change when I feel like going a little more gourmet.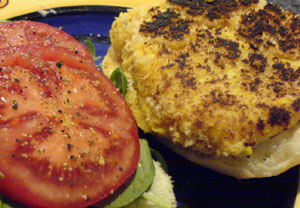 I've included Marie's email text below as I love the way she writes. If you have recipes for me to try email them to me at Kim@WhatKimAte.co.nz.
Pumpkin and Ginger Felafels
"Here is a recipe from Allyson Grofton (food in a minute lady).
We had them just as described but I think would be magic as burger patties! (and can be a change from the regular tofu patty.)
– 250gms firm pumpkin
– 425 gm can cannellini (butter) beans. Drained
– 2 tsp minced fresh garlic
– 1 tbsp minced fresh ginger
– 1 tbsp chopped fresh chilli
– 3 cups fresh bread crumbs
– oil for frying
– 200 gm tub hummus
– 1/2 cup yoghurt
– mango salsa ingredients
Mix the hummus and yoghurt together – cover and back to fridge
In a bowl combine all the mango salsa ingredients – cover and back to fridge
Peel & cook pumpkin in a little boiling water, drain and then put back into pan to dry it out – a couple of minutes, just to its not too wet. In a processor (I don't have one so I used a potato masher) cannellini beans, garlic, ginger, chilli and 1/2 breadcrumbs.
Season with salt and pepper.
Mould into 12 patties (or burger sized patties) and roll in remaining breadcrumbs.
Fry with a little oil until golden and heated through, keep warm while others are being cooked.
Serve as it or with a plain salad or make mega burgers!
Andrew loves this and I'm looking forward to getting out the barbie and making these bad boys in summer. Keep up the great blog!
Marie xx"