This Orange Mousse recipe is one of my favourites. Thomas however took this dessert one step further by serving the mousse in brandy snap baskets and topping them with cream and grapes. I am a fan, Mmmmmmm, yes I am.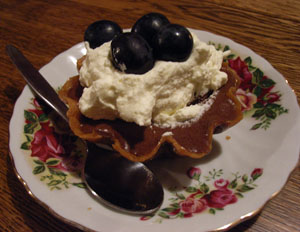 125g Sweet Dark Chocolate
4 Eggs – Separated
Finely grated Zest of 1 orange (optional)
Melt the chocolate in a bowl over simmering water (Don't get any water in the chocolate!). Leave to cool a little.
Beat the egg yolks into the chocolate one at a time. Fold in the orange zest.
Whisk the egg whites to soft peaks, fold them into the chocolate.
Put the chocolate mix into little pots/bowls, place in fridge and let them set, should take an hour or two.
Nice serving size for two people.*
Best of all it's very easy to make.
*Maybe I was feeling a bit greedy/hungry the first time I made this. As Thomas suggests in his comment it works for 4 or 5 in the brandy baskets.