The Auckland contingent of Polly Put the Kettle on had a Chai making get together the other day. We made chai, ate food, sat on the back deck and watched ducklings.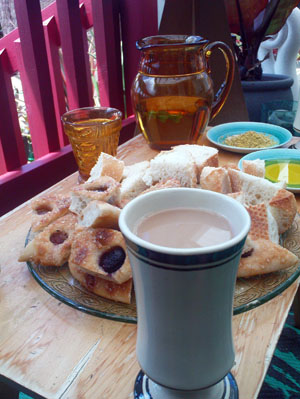 We'll be providing chai as well as other refreshments at KiwiBurn next year. We were thinking that we'd have to try out a few different recipes before finding the perfect chai. Not so, this one is great. Using soy means it's also vegan friendly (anyone know if vegans eat honey? If not I guess we could replace the honey with brown sugar).
Rowena served the chai on a cute little tray in cute mugs purchased at an Op shop.
Put the following in a pot:
1 Tbsp anise seed
6 green cardamom pods
12 cloves
1 cinnamon stick
1/4″ ginger root, sliced thin
1/4 tsp black pepper corns
2 bay leaves
1/2 cinnamon pod
7 Cups water
Boil 5 minutes, then steep 10 minutes:
Add:
2 Tbsp Rooibos tea (or your favourite) then bring to a boil, and simmer 5 minutes:
Add:
6 Tbsp honey or brown sugar
1 Cup soy
Serve!