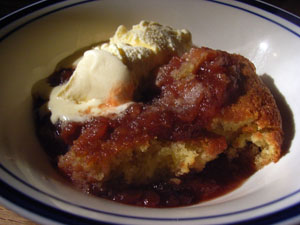 The Edmonds Cook Book
is a Kiwi Classic.
I remember being given one when I left home as most household have *at least one*.
I suspect the reason for its popularity is that the Edmonds does the basics. It's hard to mess up its straight forward recipes.
Here is one of my favourite Edmonds recipes. I've made it with lots of different fruits but my favourite remains apple and plum.
Fruit Sponge
2 cups of stewed fruit – e.g. apples, boysenberries, apricots
sugar
125g butter
1/2 teaspoon vanilla essence
1/2 cup sugar
2 eggs
1 cup of plain baking flour
2 teaspoons baking powder
2 tablespoons milk
Place stewed fruit in an ovenproof dish. Sweeten with sugar to taste. Cover and keep hot. Put butter, vanilla and measured sugar into a bowl. Beat until pale and creamy. Beat in eggs one at a time, beating well after each addition. Sift flour and baking powder together. Fold into creamed mixture. Add milk and mix to combine Spoon mixture over fruit. Bake at 190C for 40 minutes or until sponge springs back when touched. Serve hot with cream or dusted with icing sugar.