This soup is my entry in the annual super soup challenge hosted by Running with Tweezers.
The soup is rich and thick and reminded us of christmas stuffing (errr, in a good way I promise!).
It's based on recipe from "The Cooks Encyclopedia of Soups" by Debra Mayhew. I've simply added the red wine and rice vinegar.
And as Thomas said when he finished eating it "It's a keeper!"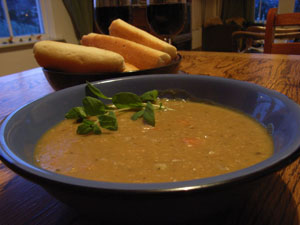 I challenge anyone who has yet to experiment with lentils to make this dish.
ingredients
1 cup of red lentils (rinsed, they don't need to be soaked.)
2 onions, finely chopped
2 large cloves of garlic, finely chopped
1 carrot, finely chopped
2 tbsps of olive oil
2 bay leaves
2 tsps of dried oregano
6 cups of vegetable stock
1/2 tbsp of rice vinegar
1 1/2 tbsps of red wine
chunky sea salt and freshly ground pepper
Put all the ingredients in a pot except for the vinegar, wine, salt and pepper. Bring to the boil then return to a simmer. Simmer for around 40 minutes. Add the vingear, wine, salt and pepper and serve with crusty bread.