I tend to avoid fruit with savoury foods. When people put sultanas in salads I consider them ruined.
Marie from Traits sent me a recipe for Pumpkin and Ginger Felafels (recipe soon) which is served with a mango salsa. She assured me that she too generally avoids fruit in savoury food but that the mango salsa works "oh so very well".
Keen but still a little doubtful I made the salsa as a dipping sauce to serve with samosas.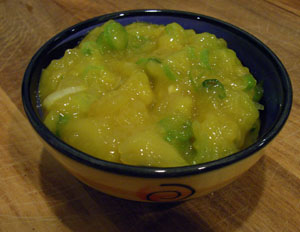 My conclusion:
It works so very well. Yum. Thanks Marie!

Ingredients
425 gm can mangoes. Drained and chopped
2 spring onions (white and green) cut finely
2 red chillies de-seeded and sliced finely
Combine ingredients. Done.