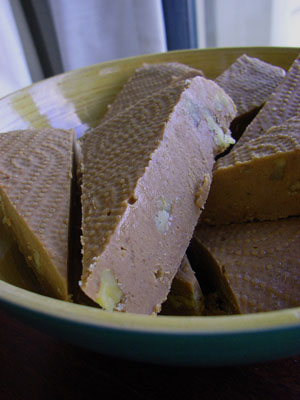 Chocolate Walnut Fudge
250g (1 cup) sugar
400g can of condensed milk
50g of butter
5ml (1 tsp) vanilla
115g plain chocolate, grated
75g (3/4 cup) walnuts
Non Stick Baking Paper
Grease an 18cm square cake tin and line with baking paper.
Mix the sugar, condensed milk and butter in a heavy-based saucepan and heat gently, stirring occasionally until the sugar is dissolved completely.
Bring the mixture to the boil (stir continuously) and cook until it reaches 119 degrees Celsius*. Remove the pan from the heat and beat in the vanilla essence, grated chocolate and nuts. Beat until mixture is smooth and creamy.
Pour mixture into the cake tin, spread evenly. Leave to set in the fridge (a few hours).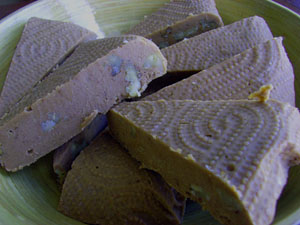 *Or perform the famous fudge soft ball test (drop a few drops of the boiling fudge mixture into cold water. If it forms a ball it is ready).