Eggplant Moussaka
I used to work with a woman who had been a vegetarian all her life. Growing up her family had lots of rituals around food. One of them was having Eggplant Moussaka for Christmas dinner.
This is certainly a special treat meal, it's too full of yummy richness (read fat) to eat regularly.
There is also a lot going on so it's good to have a fun kitchen companion to help out.
It took us 2 hours from start to finish.
Did I mention it was extremely yummy?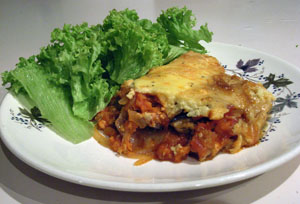 Vegetarian Eggplant Moussaka
1 large eggplant, thinly sliced
1 tablespoon olive oil
10 mushroons, thinly sliced
2 large potatoes, thinly sliced
1 onion, sliced
1 clove garlic, chopped
1 tablespoon white vinegar
1 (440gm) can whole peeled tomatoes, chopped
1 cup of red lentils, drained, juice reserved
1 teaspoon dried oregano
salt and pepper to taste
1 cup crumbled feta cheese
Topping
1 1/2 tablespoons butter
2 tablespoons all-purpose flour
1 1/4 cups milk
black pepper to taste
1 egg, beaten
1/4 cup grated Parmesan cheese
Directions
1. Sprinkle eggplant slices with salt and set aside for 30 minutes. Rinse and pat dry.
2. Preheat oven to 190C (375 degrees F)
3. While preparing the vegetables place a pot of water on the element to boil. When this comes to the boil add ½ cup of red lentil (will be about a cup when cooked). Boil for 10 minutes then remove from oven and set aside. Keep about ½ cup of the cooking water for later.
4. Heat oil in a large skillet over medium-high heat. Lightly brown eggplant and mushroom slices on both sides; drain. Adding more oil if necessary, brown potato slices; drain.
5. Saute onion and garlic until lightly browned. Pour in vinegar and reduce. Stir in tomatoes, lentils, 1/2 the juice from lentils, oregano and parsley. Cover, reduce heat to medium-low, and simmer 15 minutes.
6. In a 9×13 inch casserole dish layer eggplant, mushroom, potatoes, onions and feta and tomato mixture.
7. Cover and bake in preheated oven for 25 minutes.
8. Meanwhile, in a small saucepan combine butter, flour and milk. Bring to a slow boil, whisking constantly until thick and smoot. Remove from heat, cool for 5 minutes, and stir in beaten egg.
9. Pour sauce over vegetables and sprinkle with Parmesan cheese. Bake, uncovered, for another 25 to 30 minutes.
Enjoy!
Based on recipe found All recipes