Baked Apple Stuffed with Dried Fruit and Pecans.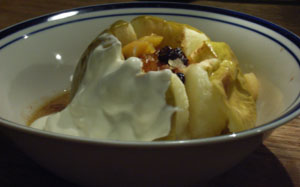 I found this recipe at Epicurious and it's a lovely winter dessert, especially when you don't want to go completely over the top with the calories!
The recipe (full instructions below) suggested gala apples but I used Granny Smiths which were good as well.
It also recommends using an apple corer, I agree. I didn't and fortunately I walked away with all my fingers. It was a close call.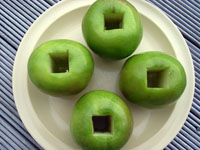 Ingredients
4 (6-oz) red apples such as Gala or Rome Beauty
1 tablespoon fresh lemon juice
1/4 cup finely chopped dried apricots
2 tablespoons dried currants
2 tablespoons chopped pecans, toasted
2 tablespoons packed dark brown sugar
1/4 teaspoon cinnamon
1/8 teaspoon ground nutmeg
1 tablespoon unsalted butter (1/2 tbs softened and 1/2 tbs cut into 4 pieces)
1/2 cup unfiltered apple cider
1/4 teaspoon vanilla
1/2 cup low-fat vanilla or maple yogurt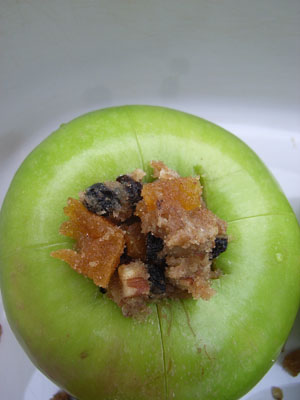 preparation
Preheat oven to 180C/350F. Core apples with corer. Stand apples up and make 4 evenly spaced vertical cuts starting from top of each apple and stopping halfway from bottom to keep apple intact. Brush inside of apples with lemon juice and stand apples in a ceramic or glass pie plate.
Toss together apricots, currants, pecans, brown sugar, cinnamon, and nutmeg in a bowl. Rub softened butter into dried-fruit mixture with your fingers until combined well, then pack center of each apple with mixture. Put a piece of remaining butter on top of each apple. Pour cider and vanilla around apples and cover pie plate tightly with foil.
Bake in middle of oven, basting once, until apples are just tender when pierced with a fork, about 40 minutes. Remove foil and continue to bake until apples are very tender but not falling apart, 20 to 30 minutes more.
Transfer to serving dishes and spoon sauce over and around apples. Serve with dollops of yogurt.