Potato Leek and Corn Soup
I love having dinner parties and have come to the conclusion that most (all if possible) preparation for a meal should be done before the guests arrive.
I made this soup in the afternoon, Thomas made garlic bread and wrapped it in foil. I also did the prep work for the baked apple stuffed with dried fruit and pecans.
The original instructions are from www.elise.com.
My parents (the guests!) asked for the recipe afterwards which is always a good sign. I did make some changes (added corn) and have included the altered version of the recipe below.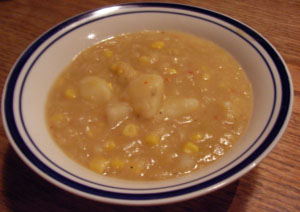 Ingredients
2 large leeks, sliced into rings.
2 Tbsp butter
4 or 5 cups of vegetable broth/stock
approx 8 medium potatoes
Salt & Pepper
1.5 cups of frozen corn
Tabasco sauce or other red chili sauce
Preparation
Cook leeks in butter with salt and pepper, cover pan, cook on low heat for 10 minutes. Check often. Do not brown leeks! Browning will give leeks a burnt taste.
Add water, broth, and potatoes. Cook for 20 minutes. Scoop about have of the soup mixture into a blender, puree and return to pan. Add a dash of chili sauce to taste – about 1/4 teaspoon. Add corn and continue to boil until corn is cooked (about 5 minutes).
Serve with garlic bread.