Porridge
As you may have noticed from my June What Kim Ate round-up my day normally starts with porridge.
Thomas makes a lovely porridge with currants, dried apricots, almonds and sunflower seeds. The nuts and seeds are a good source of Vitamin E.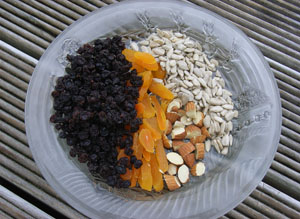 Ingredients:
(for two people)
1 cup of whole oats
2.5 cups of water
4 dried apricots
6 almonds
handful of currants
A dessertspoon of sunflower seeds
Mix all ingredients together in a saucepan. Bring to boil and simmer for 10 to 15 minutes. Stir and Serve.
I don't put any milk or sugar on it as it's nice just the way it is. Thomas likes to add a teaspoon of jam to his.