Pumpkin Soup
It's cold, it's rainy and I don't have to go to work. Today is the perfect soup day.
And for me, soup also means scones. I made cheese and corn scones to go with the pumpkin soup.
Pumpkin Soup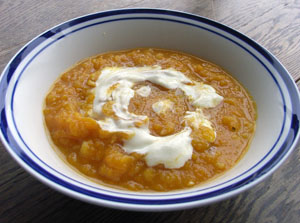 Ingredients
1kg of raw pumpkin (about half a medium pumpkin)
1kg of raw potato
3 cups of vegetable stock
Extra water
3 gloves of garlic
1 onion
1. Remove seeds and skin from pumpkin. Chop and put into large cooking pot with 3 cups of vegetable stock.
Tip for removing pumpkin skin: Wash the skin, chop roughly and put in pot of stock and potatoes. After the pumpkin has boiled for about 5 minutes remove the pumpkin. You will be able to remove the skin easily. Chop pumpkin into smaller pieces and return to the pot.
2. Peel and wash potatoes. Cut into chunks and add to the pumpkin and stock mix.
3. Add extra water to the pot until it covers all the ingredients.
4. Sautee garlic and onion at a low heat in a frying pan. Add to soup pot.
5. Boil for about 20 minutes or until the pumpkin and potato are cooked.
6. Remove half of the mixture and mash (with potato masher or blender).
7. Return smooth mixture to the soup pot, stir in.
8. Serve with salt and pepper (tastes good with sour cream).