Cheese and Corn Scones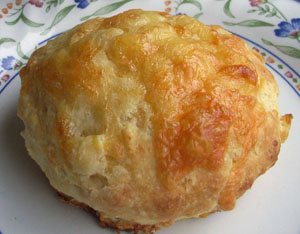 Cheese and Corn Scones
Thanks to the Edmonds Cook Book for the base of this recipe.
Ingredients
3 cups of flour
6 teaspoons of baking powder
1/4 teaspoon of salt
50g of butter
1 1/4 cups of milk
1/3 cup of grated cheese
1/2 cup of frozen corn kernels
pinch of cayenne pepper
Sift flour, baking powder and salt into a bowl. Rub butter into flour until it resembles fine breadcrumbs. Add milk, cheese, corn, cayenne pepper and mix quickly to a soft dough with a knife. Lightly knead. Lightly dust an oven tray with flour. Press scone dough out onto this. Cut into 12 even-sized pieces. Leave a 2 cm space between scones. Brush tops with milk, place a small amount of cheese on top. Bake at 220C for 10 minutes or until golden brown. Makes 12.
Tip
If you'd like your scones to be round and shaped nicely. Use a drinking glass (floured rim) to press down on the dough and cut out the scones.