Eating Outside: Picnic on the beach.
I love eating outside. During summer we often host dinner parties in our backyard. Since it was a beautiful pre-spring day today Thomas and I went for a walk along the rugged coast out past Makara Beach (Wellington, NZ).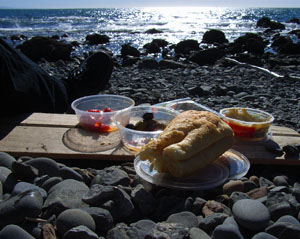 I love our make shift table.
We ate the following and it was delicious.
Crusty bread
Marinated Feta
Roasted Capsicum
Hummus
Mixed spicy green and black olives
The advantage of picnicking on a stone beach is that no sand gets in your food!