Best Vegetarian Fast Food Burgers.
My vote is in. Burger Fuel has far, far superior vegetarian burgers than Burger Wisconsin, Burger King or McDonalds.
Are there any other fast food style burger places I need to consider?
Burger Fuel even has more than one vegetarian burger so you don't just have to get the default. My favourite is the:
Beetnik from Burger Fuel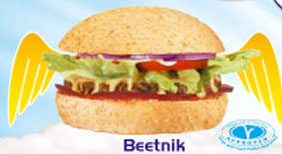 Mushroom, kumara, chickpea and basil pattie, beetroot, melted cheddar, salad, relish, aioli on a bun for $7.50.
Mmmmmm. Kim.