Huevos Motulenos Whangamata Style
These eggs are our attempt at Huevos Motulenos like we ate a number of times in Mexico.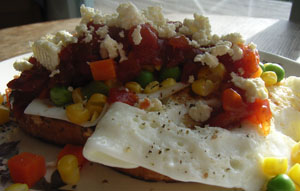 For two people:
Cup of frozen mixed vegetables.
Half a cup of salsa.
Four eggs.
50gms feta cheese.
4 slices bread.
Cook the veges. Fry the eggs. Heat the salsa. Make the toast – well-done to avoid sogginess.
Assemble by putting the toast down, followed by the eggs, the vegetables, and the salsa. Sprinkle with the feta. Consume.