As Wairarapa continues to fail me in the provision of Malaysian food, I decided it was time to learn how to cook laksa.
The first experiment went well and the second was good enough that I thought I'd record it to help me iterate from there. I'll be updating it as I get better at it, and I'm open to suggestions. (Updates: changed coconut milk to the light version because it was too fatty, increased lime juice)

It's not "authentic" but it was delicious.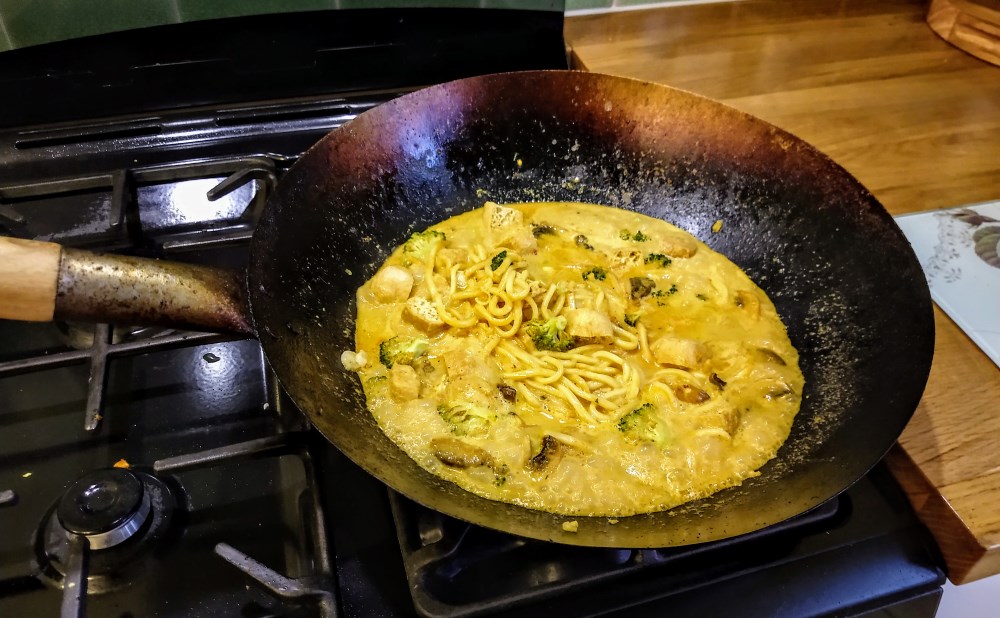 Ingredients (serves 3-4)
2 tbsp cooking oil (canola)
3 tbsp Exotic Foods Thai red curry paste
1 tbsp crushed garlic
1 cup cauliflower cut into small pieces
1 cup broccoli cut into small pieces
1 cup capsicum cut into small pieces
1 cup button mushrooms cut into quarters
1 tsp Sambal Extra Pedas chili sauce
1.5 litre vegetable stock
2 tsp crushed ginger
400ml light coconut milk
500gm packet fresh noodles
250gm fried tofu puffs cut into quarters
3 tbsp lime juice
100gm mung bean sprouts
4 spring onions finely sliced
4 tbsp dried fried shallots (as garnish)
Instructions
Heat up the wok to medium and add the oil
Add the red curry paste and garlic, and simmer it for a minute or two
Add the cauliflower, broccoli and capsicum and cook for couple of minutes
Add the mushrooms and chili sauce and cooking for another minute or two
Add vegetable stock, bring to simmer and cook for another couple of minutes
Add ginger, coconut milk and noodles and return to simmer
Finish off by adding fried tofu puffs, lime juice, bean sprouts, spring onions, making sure tofu puffs are properly submerged
Serve into noodle bowls and top with a tablespoon of dried fried shallots